MESSAGE FROM MANAGEMENT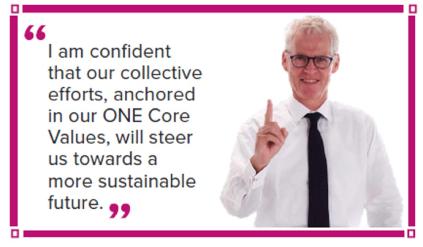 Dear Stakeholders,
2020 was a momentous year for several reasons. It was the third year of operations for Ocean Network Express (ONE) since we launched in April 2018, but one that tested us beyond measure. As the world continues to battle the COVID-19 pandemic, businesses and communities sought to find new ways of working and living.
At ONE, we faced multiple operational challenges caused by the global supply chain disruptions, requiring us to double down on efforts to cater to the unexpected surge in container demand and maintain our service reliability. Besides deploying empty sweeper vessels to accelerate the repositioning of almost three million TEUs of empty containers and stepping up container procurement to secure our supply, we also made use of AI-based technology to improve our demand forecast system and enhance predictability.
The drive to adopt technology and digitalize our business processes has played a big role in helping us adapt relatively seamlessly to working and operating during the pandemic. Our ROOT enterprise architecture project was kicked off in 2020, comprising 25 digitalization initiatives across e-commerce, customer relationship management and business intelligence. It is the first phase of ONE's digitalization roadmap, and part of our data-driven enterprise strategy, with the ultimate objective to achieve operational and service excellence, capture new opportunities and deliver greater value to our customers.
Amidst these extraordinary times, it is heartening that the transition to a clean energy future has only accelerated, with a groundswell of support for climate action arising across the world. ONE is committed to play a proactive role in driving decarbonization within our industry. We have been accelerating our own efforts towards achieving carbon-neutral shipping with initiatives to improve fuel efficiency and reduce carbon emissions in our operations. We successfully completed a first trial using sustainable biofuel blend to power the M/V MOL Experience across the Atlantic in 2020 and will continue with further trials to establish the viability of biofuels as a greener alternative. More recently, we set up the Green Strategy Department to drive our environmental sustainability endeavours. Through close collaboration with internal and external stakeholders, we seek to contribute to sector-wide initiatives in innovating and advancing sustainability, including the use of future fuels and efficient ship design, among others.
In 2021, we took a further step in our green strategy direction by joining six industry partners to establish a fund for a maritime decarbonization centre to be set up in Singapore. Under the Memorandum of Understanding with the Maritime and Port Authority of Singapore (MPA), ONE will contribute S$10 million to support the establishment of the centre, fund maritime-decarbonization-related research and technology development projects, and collaborate with institutes of higher learning and research institutes.
Our progress is made possible only with the dedication and support of our people, who have persevered through the challenging times to deliver the service excellence that has come to be associated with the ONE name. People development remains a key focus for us as we strengthen our talent base for future success. We launched the THRIVE platform during 2020 to ensure our people can have an engaging and effective learning experience even when working from home. We continue to prioritize the health and safety of our colleagues, implementing pandemic safety measures in our office while allowing for flexible working arrangements.
At the same time, we are mindful of the support we must render to the ship crew who work on our chartered vessels – our maritime front liners who play a critical role to keep the global supply chain moving. ONE signed the Neptune Declaration for Seafarer Wellbeing and Crew Change, joining stakeholders from across the value chain to push for the resolution of the international crew change crisis.
Looking back at 2020, I am grateful for the utmost support of our employees, customers, shareholders and partners, that has enabled us to overcome challenges and forge ahead. The future may be uncertain, but it presents opportunities for us to build further resilience in our business to withstand waves of disruption that we may yet foresee. It is more important than ever for us to integrate sustainable ways of working as we transition into the new normal. Our priorities in the year ahead will reflect our commitment to be sustainable and resilient, and a trusted partner for our customers in delivering global shipping solutions. We will press on with our company-wide digitalization, upgrade our fleet to be more sustainable and efficient through technical modifications and newbuilding program, and continue to implement initiatives to work towards our carbon reduction targets. It will not be easy, but it must be done. I am confident that our collective efforts, anchored in our ONE Core Values, will steer us towards a more sustainable future.
We will strive to communicate our progress openly and consistently. In this fourth edition of our sustainability report, we have included a new section to provide an overview of our key targets and commitments to manage our material sustainability topics. I hope this report provides you with a snapshot of ONE's sustainability efforts and performance to date, and I look forward to continuing this journey together with you.
Sincerely,
Jeremy Nixon
Chief Executive Officer
Welcome to our CSR page,
ONE's Vision and Commitment
As a critical connector in the world's supply chains, ONE is committed to conducting its business in a responsible manner recognizing the wider economic, social and environmental impact of our activities.
ONE is also committed to promote sustainable practices with its suppliers and business partners. Sustainability matters to our valued customers and our intention is to work closely with them to help reduce their risks and improve the transparency of their own supply chain, delivering greater value and a common purpose through their journeys.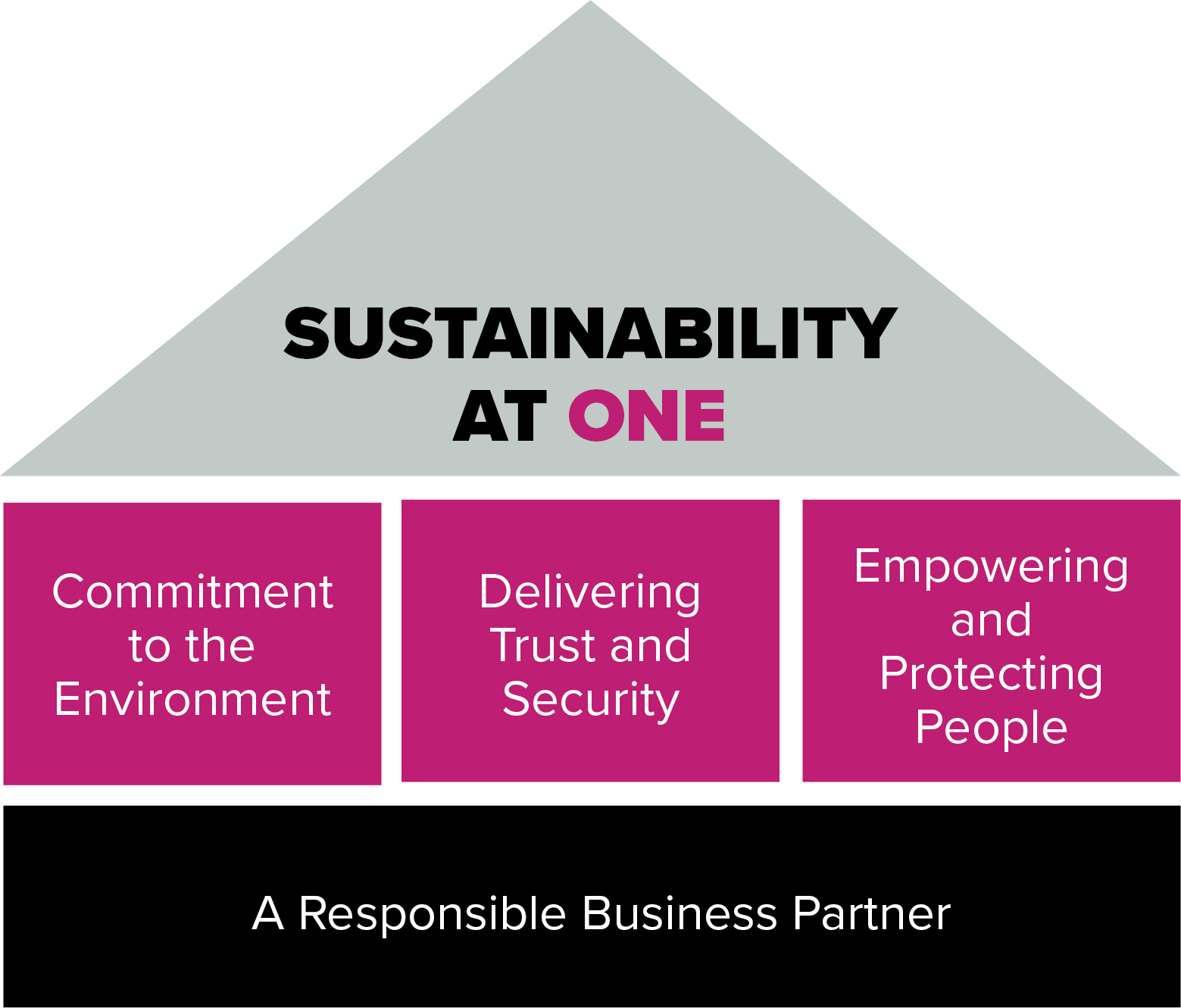 Placing our safety and environmental initiatives with the highest priority.
We work tirelessly to improve our services in ways that are useful to society, and making every effort to meet our customers' expectations and maintain their trust.
In all of our business activities, the safety and environmental initiatives entail the highest priority. Also, we respect human rights, comply with laws and ordinances and adhere to international rules and their underlying spirit. We meet the highest ethical standards to ensure that our business activities contribute to the sustainable development of society.
In our daily business including CSR related activities are followed by our basic method of thinking "ONE Business Credo" stated as followings. We encourage our business partners to act accordingly, and have established effective internal systems to accomplish this.
ONE Business Credo;
Good-faith business activities
Environmental and safety initiatives
Enhanced security
Compliance with laws and ordinances, respect for human rights
Exclusion of antisocial activities
Disclosure of information and communication with society
Social contribution activities
Preservation of favorable work environments
This is integral to the way that we do business at ONE, which will remain an essential part of our company in the future. 
As ONE, we can.
ONE'S COMMITMENT TO THE UNITED NATIONS GLOBAL COMPACT (UNGC) PRINCIPLES

With our broad business activities spanning across 120 countries around the world, ONE is inherently confronted with worldwide ethics, human rights, labour and environmental issues, be it from a direct or an indirect manner. In turn, to responsibly mitigate the impacts of our operations on the global environment, ONE has sought to become a member of the Global Compact Network Singapore (GCNS), the local chapter of the United Nations Global Compact (UNGC) network.
As a member, ONE supports the ten UNGC Principles and has pledged to adopt and promote sustainable and responsible business practices. This means operating in ways that, at a minimum, meet fundamental responsibilities in the areas of human rights, labour, environment and anti-corruption.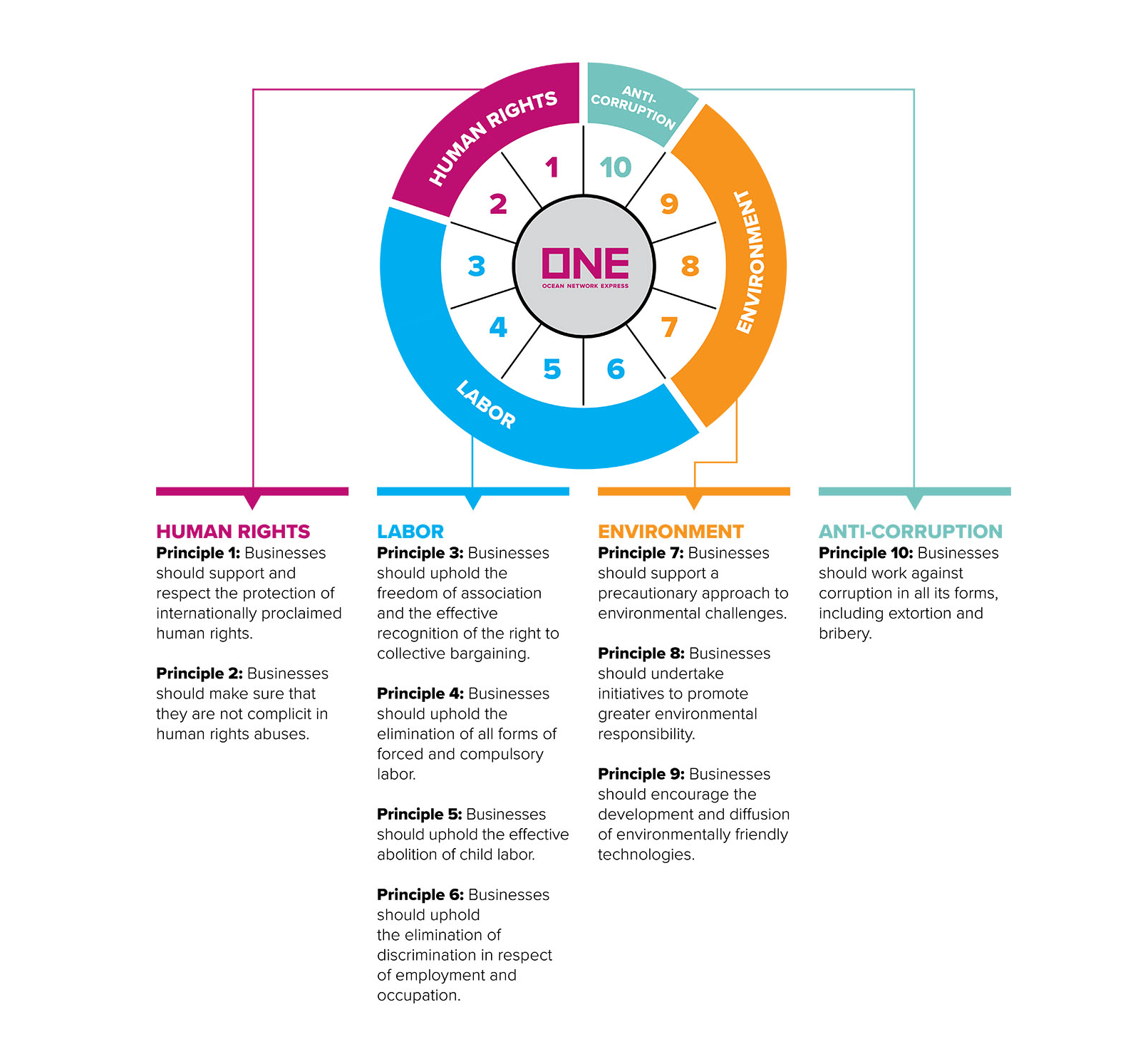 Sustainable Development Goals (SDGs)
The Sustainable Development Goals are a suite of 17 actionable guidelines for all nations to adhere regardless of their income status, for the promotion of global prosperity and environmental protection. The initiative accentuates the importance of counteracting poverty which is perceived as a barrier to economic growth and emphasises on the tackling of social and environmental issues, as the precursors of the problem.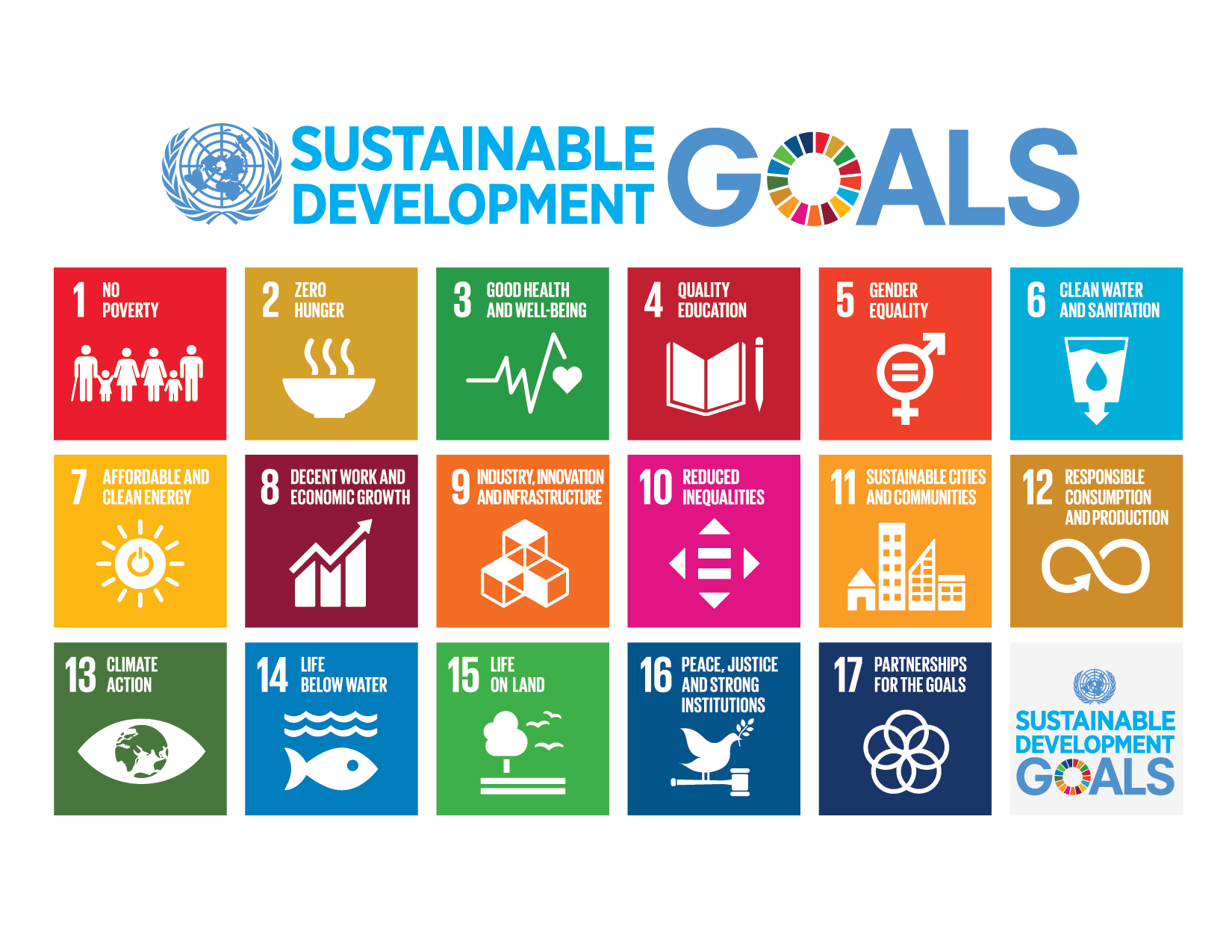 As a corporate member of Global Compact Network Singapore, ONE commits to the SDGs via the incorporation of the recommended best practices to its business strategies and operations.
CSR Activities
ONE actively organises and participates in the various CSR activities. Please find below a listing of some recent activities of interest.